---
Design
Puregen Water Pump is the leading manufacturer of Pump system is USA since year 1978 and it enter Malaysia market since year 2001. BWS do supply and install Puregen Water Pressure pump with reasonable price and also do repair puregen water pump, service puregen water booster pump, installation of puregen water pump malaysia and puregen pump service & maintenance.
Puregen Water Pump Malaysia supply a wide range of puregen water pump such as pgh230,pgh240, pgh440 and pgk440.
Quality
PureGen works with the NSF, and the WQAto ensure the highest quality and safest products. Many of our products are certified to the toughest industry standards. Our NSF series R.O. systems are certified to NSF / ANSI Standard 58.
Value
PureGen has been a leader in providing water treatment systems and components for over 15 years. With a diverse and growing product line of products made in the USA and overseas, we are able to provide you with the quality and pricing you need to be competitive in today's challenging market.
---
5S Features
| | |
| --- | --- |
| Smart | A premium and trustworthy digital controller to start-stop the water pressure pump smartly and silently transmit the water pressure. |
| Silence | Its design with its extraordinary and innovative design to product the pump with minimum sound in action. |
| Stylish | Completed with innovative technology with stainless steel materials. |
| Superior | Pump is produced according to international standard and stringent PureGen quality programme. |
| Simple | Our pumps are easy to be installed and operating, actual settings are clearly indicated by indicator lights on user friendly control panel. |
Technical Spec
Gallery
sleep in the sink climb the curtains attack, give me fish.
FAQs
1.Which model of pump should you choose
PGH2-30 : Supply for 2 to 3 bathrooms
PGH2-40 : Supply for 3 to 4 bathrooms
PGH4-40 : Supply for 4 to 5 bathrooms
---
2.Why should you install a water pressure pump?
To increase the water pressure while there are multiple bathrooms using water at the same time.
---
3.Where to install the water pressure pump?
Beside your cold water tank (outlet).  Main direct -> Water Filter -> Water Tank -> Water Pump -> Bathrooms' showers
---
4. What is our installation include?
Our installation including Cold Water Pipes, Bypass valves, Check Valve, Union Valve and Labor.
---
5. When should I turn on the pump?
The Pump should turned ON 24 hours as it have a digital control (Turn "On" while using water, Turn "Off" while not using water)
---
6.Is the Pump high electricity consumption?
Nope, it is just 400 Watt to 600 Watt only. (Around RM0.15 when using for 1 hour)
---
7. Preparation before installation?
13 Amp single phase plug point.
Water and electricity supply
Promotion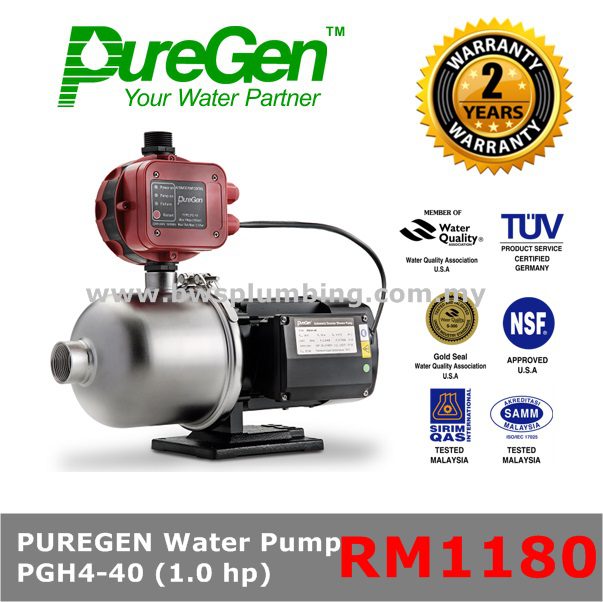 Contact Us
Our Coverage Area
Our company sales and services are cover almost the whole Malaysia
Selangor | Kuala Lumpur | Seremban | Melaka | Johor | Perak | Penang | Kelantan | Kedah | Terengganu | Pahang |
You may contact us in a number of ways:
Telephone: 012-604 3731
Email: [email protected]
Working Hour: Monday to Sunday, 9.00 am to 10.00 pm
Get In Touch with us
Interested with our product and service? Drop by a message here and we will get in touch with you as soon as possible!